If you asked the average person what a CEO does, they can probably give you a fairly detailed answer, somewhere between the truth and the truth as influenced by pop culture. CEOs are visionaries who run companies by giving presentations and going to board meetings.
By contrast, if you ask what a CFO does, the answer you might get is, "Shred documents." CFOs rarely get famous, and it's even more rarely for good reasons. But CFOs do serve real, legal, purposes. So we seek today to answer the question: What does a CFO do?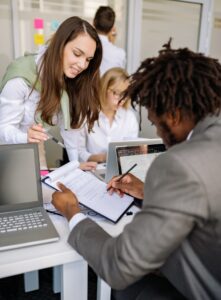 CFO vs. Accounting Manager
It might help to start by clarifying what a CFO does not do. Though a CFO is, by definition, the Chief Financial Officer of a company, their role is not the same of that as an Accounting Manager. An Accounting Manager directs the accounting department and ensures accuracy and timeliness of company financials, as well as making sure the day-to-day accounting operations run smoothly. In contrast, the CFO is responsible for the financial health of the company, as well as leading its financial direction. To put it in simple terms, if the power gets shut off because someone forgot to pay the bill, it's the Accounting Manager's fault. If the power gets shut off because the company can't afford to pay the bill, it's the CFO's problem.
How Do Big Companies Use CFOs?
A CFO's role is to develop and implement the financial strategy of an organization. They not only analyze the present financial position, but develop projections and forecasts for where the company is headed. If an accountant is a historian, the CFO is a futurist.
Beyond analysis of the basic company financials, they develop KPIs to track financial health, and are a key figure in making financial decisions, such as issuance of shares. In publicly-held companies, the CFO also ensures that regulations are being met and obligations to shareholders fulfilled.
What Can a Small Company Do?
Per Salary.com, as of March 29th, 2022 the average CFO in the United States makes $412,529 per year. This is an expense that is not an option for many small-to-midsized businesses. Many small business owners choose to cover those duties solo, though some choose to outsource the work to a fractional CFO.
An outsourced CFO can help with obvious needs, like pursuing financing from lenders or investors, or special reporting required for grants and government contracts. However, they can also help with everything else the big companies get: budgets, pricing strategies, expansion planning, etc. The trick is in finding a good outsourced CFO.
What Makes a Good Outsourced CFO?
Projects die when there's a lack of focus, and that includes financial projects. A good CFO consultant will help determine what CFO services are needed, in what order, and the timeline for their implementation and overlap. (Since the CFO is not a full-time employee, and human capital in a smaller company is more limited as well, it's impossible to start all projects desired all at once.)
The good CFO will not just assist with the higher-level thought exercises, the analysis of data already collected, but will also help with practical implementation. A company who is outsourcing CFO work may also not yet have an Accounting Manager, and the CFO consultant can help fill in those gaps, and be sure that financial systems are well-developed and running smoothly. Since the CFO cannot provide good analysis without good data, it benefits all for the books to be clean and timely.
Most importantly, a good CFO will exhibit flexibility in working with a client, not trying to sell a set package of services, but developing plans unique to that company's needs. A sales bonus plan doesn't necessarily help a company with receivables issues, nor should a company with poor cash-flow focus on immediate expansion. A good CFO will be dynamic, instead of taking a one-size-fits-all approach, and will be honest with the client, even when they don't want to hear it.
And, of course, they won't rely on the paper shredder to cover up financial crimes.